Thursday, December 3rd, 2015
---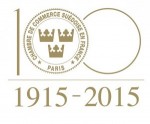 WELCOME SPEECH BY GÎTA PATERSON, PRESIDENT SWEDISH CHAMBER OF COMMERCE IN FRANCE
IN THE PRESENCE OF HIS MAJESTY KING CARL XVI GUSTAF AND HER MAJESTY QUEEN SILIVA OF SWEDEN
CENTENARY GALA EVENING
PETIT PALAIS
30th NOVEMBER 2015
YOUR MAJESTIES
EXCELLENCES
CHERS AMIS AND HONORED GUESTS
C'est avec le plus grand plaisir que je vous souhaite à toutes et à tous bienvenue ce soir.
It is a special privilege and an immense honor to welcome His Majesty the King, the
High Protector of our Chamber, and Her Majesty the Queen and thank you for sharing
and supporting more than 100 years of friendship and economic relations between
Sweden and France.
Who could have thought that this day the 30th of November 2015, carefully chosen by the
Chamber Board more than 1 and ½ year ago, would be the date of inauguration of the
important French Climate Conference, initially announced to start on December 1, and
that 150 heads of State from all over the world would be in Paris today? And who could
have thought, at the time, that the world would take such a dramatic turn here in Paris on
Friday the 13th of November, only 17 days ago?
With this enormously tragic attack on our civil society and strive for peace our evening
tonight was instantly taken to another dimension where it became even more important as
an expression of our solidarity, support of the French people, and the need for unity. Your
Majesties, Excellences, Honored guests, I thank you, especially the many, many who
have traveled from Sweden and elsewhere, for being here tonight defending our values of
a free and open society.
This 100 Year Anniversary evening, we will celebrate the richness of our joint past, the
excellency of the know-how of our French Swedish companies and their fruitful cross
boarder cooperation. We shall admire young Swedish-French talents, we shall share some
Swedish tradition, and most of all I hope that tonight will be an opportunity to build
closer relations between us so to intensify the excellent work we have the proven
complementary skills of doing together to help meet the economic, climate, societal and
humanitarian goals and create a better world.
Let me end my remarks with a few words from General Charles de Gaulle:
Let us be firm, pure and faithful; at the end of our sorrow, there is the greatest glory of
the world, that of the men who did not give in.
Welcome to the City of Light and its magnificent Museum of Fine Arts – Le Petit Palais!
**************