Wednesday, November 18th, 2015
---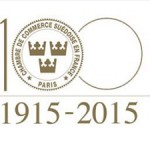 30th of November 2015 – Centenary Conference and Gala Dinner
In the presence of Their Majesties King Carl XVI Gustaf and Queen Silvia of Sweden
The major events of the celebration of the 100th anniversary of the Swedish Chamber of Commerce take place in Paris on the 30th of November 2015, on the eve of the Paris Climate Conference.
Centenary Conference at Chambre de commerce et d'Industrie de région Paris Île-de-France – Hôtel Potocki, 27 avenue de Friedland 75008 Paris, 13.30-17.00: This high level conference aims at promoting the strength and know-how of Swedish international companies, reinforcing cooperation, developing important French contacts and together to prepare for the challenges to overcome for a sustainable growth in an increasingly competitive and complex global world.The High Protector of the Chamber, His Majesty the King Carl XVI Gustaf, will open the Centenary Conference whose main theme will be: "The future of competitiveness in France, Sweden and Europe". The conference is followed by a networking cocktail, 17.00 – 18.00.
Click here for more information about the conference.


.

Gala Evening at Petit Palais, 18.30-23.00: The Conference is followed by a Gala dinner at Petit Palais, the City of Paris' Museum of Fine Arts, to celebrate a century of Swedish companies in France and the French-Swedish friendship.The gastronomic dinner will be conceived by prominent Swedish chefs and based on Swedish food raw materials.The evening programme includes: Centenary remarks and celebrations, remittance of the Prize of Excellency Award, remittance of the one-time special Centenary Excellency Award, dance performances from "Queen Christina of Sweden, the European", by artists from the BASE23 Stockholm Dance Academy, and more.The participants at the Gala dinner include the speakers at the Centenary Conference and leading representatives from the economic, political, cultural and academic world, invited by the Swedish Chamber of Commerce in France and the by participating Swedish/French companies. The estimated number of guests is 300.
Click here for detailed program
Click here for registration form
Please note that the number of seats is limited and that this is a reservation request, the payment can be made upon receipt of CCSF's confirmation. All confirmed reservations are final and no refunds can be made.
CENTENARY PARTNERS:


INTERNATIONAL MEDIA PARTNER