"Insights from the political and social landscape in the world's leading economy" – Anna Throne-Holst, President Swedish American Chamber of Commerce NY, politician & entrepreneur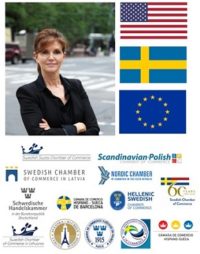 Webinar 17:30-18:30 (Paris)
"Insights from the political and social landscape in the world's leading economy"
with Anna Throne-Holst, President  Swedish American Chamber of Commerce, New York, Politician & entrepreneur
Anna will share her experiences and insights as a politician, entrepreneur, and president of the Chamber of Commerce.
The local challenges are numerous.
What are the different scenarios post-election in the world's largest economy?
And what will be the consequences for Europe, the companies and for trade between the continents?
The event is featured by the Swedish Chamber of Commerce in France in partnership with several Swedish Chamber of Commerce in Europe.
Start:
1970-01-01 00:00
Slutar:
1970-01-01 00:00
Anmälan