Tech Forum 2020: Tech for Good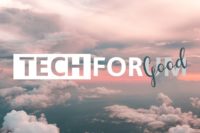 3rd of September 3:30pm – 6:30pm (Paris time) Virtual event
Technology can be transformational. But how is tech tackling the fundamental challenges facing us within environmental and social impact? Join us at Tech Forum 2020 – a virtual and collaborative gathering – as we discuss the technologies of the future, and tech as an enabler for good. How can ideas and innovation behind ideal driven technology and conscious investments be used to drive change? Through keynotes, panels, pitching sessions from aspiring start-ups and interactive talk shows, and with a stellar line-up of speakers from both sides of the North Sea, we explore the technologies shaping the future and how the industry, academia and policy makers can solve the world's problems together.
Join us and meet leading and successful Swedish and British entrepreneurs, large corporates on their own digitisation journeys, UK public bodies in transformation, and some of the many venture capital investors browsing the space in Europe's financial capital.
Welcome
Peter Sandberg, Managing Director, Swedish Chamber of Commerce for the UK
Introduction
Master of Ceremonies
Amali de Alwis, Managing Director, Microsoft for Startups UK
5G as an enabler
Marielle Lindgren, CEO, Ericsson UK and Ireland
Technologies shaping the future
Harry Rhys Davies, Applied AI Lead, Tech Nation
Dr. Stephanie Hare, Author, Researcher and Broadcaster
Andrea Spaccapietra, Head of MELA Digital Services CU UK & Ireland, Ericsson UK and Ireland
Moderated by Amy Boyd, Senior Cloud Advocate AI/ML, Microsoft
Transforming urban transport, a sharing model
Bodil Eriksson, CEO, Volvo Car Mobility
Transforming the high street, back to local
Nick Brackenbury, Co-Founder & CEO, NearSt
Impact at the core of the business model
Cansu Deniz Bayrak, Senior Partner, Head of Fundraising, Bethnal Green Ventures
Agate Freimane, General Partner, Norrsken VC
Mikkel Skott Olsen, Head of +impact, Danske Bank
Moderated by Aurore Belfrage, Partner, SusTechable, and Senior Advisor, AI Innovation of Sweden
Attracting capital and backing ideas
Carlo Biggio, Venture Capital Investor, Accel Partners
Sofia Dolfe, Investor, Index Ventures
Teemu Mattila, Investment Manager, DN Capital
Deepka Rana, Venture Capital Investor, Northzone
Annette Wilson, Chair Europe, Antler
Moderated by Amali de Alwis, Managing Director, Microsoft for Startups UK
From idea to global – building a unicorn
Steven Collins, Chief Technology Officer, King
Solving the world's problem – together
Juliet Bauer, UK Managing Director, KRY/LIVI
Bethan Charnley, Head of Strategic Projects, CDEI
Sue Daley, Associate Director Technology and Innovation, techUK
Torgny Gunnarsson, Deputy CEO, Combient Group
Tony Young, National Clinical Lead for Innovation, NHS England
Moderated by Oscar Westergård, Partner, Antler
Organized by The Swedish Chamber of Commerce for the UK
in partnership with
Chambre de Commerce Suédoise en France
Camara de Comercio Hispano-Sueca
Camara de Comercio Hispano-Sueca de Barcelona
British-Swedish Chamber of Commerce
Swedish Swiss Chamber of Commerce
Swedish Chamber of Commerce for the Netherlands
Schwedische Handelskammer
Department for International Trade
Embassy of Sweden London
Reactor
Startup Sweden
Swedish Agency for Economic and Regional Growth
Swedish Energy Agency
Vinnova
Sponsors 
Danske Bank
Goodwille
Jämtland Härjedalen Tourism
ZYN TobaccoFree
As a CCSF/YP member this event will be for free. You should register as a SCC member, mentioning your CCSF membership in the "Comments" section.
Start:
1970-01-01 00:00
Slutar:
1970-01-01 00:00
Anmälan