April 20, 2021 Tech Talent – Explore how to attract, retain and manage tech talents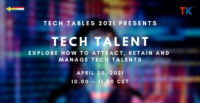 Tech Talent
Explore how to attract, retain and manage tech talents
With the acceleration in digital, the demands on technology — for speed, flexibility, reliability, security, and value — have radically increased. For company leaders reviewing how to transform their organizations, one tricky question is emerging: Where do I find the people to do all the work? Companies have to hire the best, but that won't be enough. They'll also need to rethink how they reskill and upskill their people. People are the most important factor for a company's growth, especially in its early stages of development. How to find the right people and how to get a better understanding on how to create great teams?
The Swedish Chamber of Commerce for the Netherlands, in partnership with the CCSF,  are proud to welcome four amazing speakers on this topic for the upcoming event Tech Talent!
Dr. Cara Antoine, Managing Director Digital Transformation at IG&H
Bernie van Leeuwen, Managing Director SKF Netherlands
Rik Zuidmeer, Partner and member of the International Leadership Team of Mercuri Urval
Jeffrey Kenens, Partner TK
The moderator for the event will be Rens Goudsmit, Head of TK Tech & Attorney at Law
Follow the link below to learn more and register!
(CCSF members are welcome to register for free as a guest)
The Swedish Chamber of Commerce Tech Talent webinar is supported by TK and organized by the Swedish Chamber of Commerce for the Netherlands in Partnership with the Dutch Chamber, the Swedish Chamber of Commerce in France and the Swedish Chamber of Commerce for Germany.

Start:
1970-01-01 00:00
Slutar:
1970-01-01 00:00
Anmälan