A Swedish success story in the French fashion and luxury industry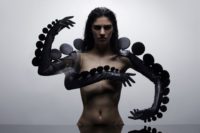 25 février 19h00
A Swedish success story in the French fashion and luxury industry
THOMASINE – Creative Swedish entrepreneurship in Paris
Presentation by Thomasine BARNEKOW followed by a Semmel-fika (typical Swedish February pastry) !
Thomasine Barnekow, glove designer and couturière extraordinaire, graduated in conceptual product design at Li Edelkoort's Design Academy Eindhoven in the Netherlands and was selected as a talent at the Italian fashion competition ITS#SIX which introduced her to a career within the French luxury glove industry.
Thomasine revives the function of gloves and explores ideas and possibilities that are inspired by the worlds of fashion and architecture. Nature is a constant source of inspiration for shapes and structures. The collection of accessories for the hand is full of surprises – combinations of material, twists and fastenings that show off her technical understanding and attention to fine craftsmanship.
Her brand THOMASINE was founded in 2008, it challenges traditional craftsmanship by creating a new style of gloves.
The brand is continually featured in international press: Vogue, Harper's Bazaar, Interview, Numéro, L'Officiel and Elle but also exhibited in prestigious museums all around the world: Les Arts Décoratifs Paris, MoMu Antwerp, LACMA Los Angeles, Dallas Contemporary Texas, MoCA Shanghai, Platform-L Seoul.
Important couture collaborations are made parallel to the ready-to-wear collection with major French fashion houses, the Paris National Opera, cinema productions and contemporary artists.
Last autumn 2019, Thomasine opened her first boutique in the heart of Paris at 23 Galerie Véro-Dodat, in the 1st district, in one of the historical Parisian passages next to Louvre.
Start:
1970-01-01 00:00
Slutar:
1970-01-01 00:00
Anmälan